Contents
This is an everyday carry item with survival features. We like to have a pen with us no matter where we travel. This writing pen has an LED flashlight, glass breaker and could be used for self defense if needed. It takes Fischer pen refills which are easy to find. The screw on cap is really handy as it won't open in a bag or pocket. It is aluminium, seems high quality and has versatile purposes. Is there any other pen you need in the outdoors?
Tactical pen with cap off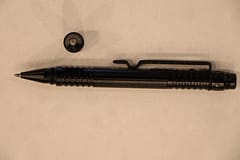 Headlamps are a must for outdoor adventures and we have had numerous brands and versions. The Princeton Tec Byte is our favorite headlamp so far mainly for the lock feature. We have ran our headlamp batteries low many times with them turning on in bags or pockets. Having a simple lock feature so the device can't turn on is key. Other great features is that the headlamp is super light weight, has three light settings and is small. We like only have three light settings; low, high and red. How many settings do you really need? Red is great when talking with people and not blinding them.
Princeton Tec Byte headlamp easy to keep on while getting kids to be camping
If you have ever tried whittling wood to start a fire with a Leatherman you know how uncomfortable the handle is. Switching to a Morakniv two things stick out; 1 comfort of the handle in your hand and 2 the case is a solid plastic sheath which has a clip attachment so you don't need to take your belt on and off if switching from shorts to pants, etc. Switching a knife on and off a belt might not sound like a big deal but when you live somewhere where you can get 4 seasons in a day this is a convenient feature. At a cost of around $15 US it's an amazing buy.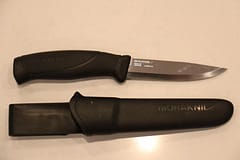 We are big Patagonia clothing fans, we appreciate the durability, fit, warranty and style. We still own and wear pieces that are 20 years old…wowza…time has passed! Recently we got the men's 2017 Refugitive jacket which is super light, fully waterproof, durable fabric and our favorite feature is it is full stretch. Main body pockets are NOT mesh so the pockets will be more durable and warmer for the hands.
Keeping dry in the Refugitive jacket
We love coffee. We have tried instant coffee, individual coffee filters and percolators while camping. No device has made as delicious, hot coffee as a simple insulated french press. We had a glass one but it broke. Durability is key for us, we are usually making coffee over rocks, and as many of you have probably experienced glass things break. We suggest getting any durable looking coffee press you can find, they aren't as cheap as glass but worth it. Make coffee, tea or hot chocolate and keep it warm as you refill your cups. Mmmm…coffee…
Camping kitchen setup with our beloved coffee press and Coleman stove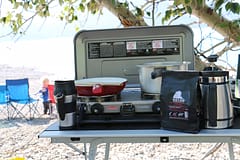 We have been using the Coleman Gladiator Fyreknight 2-burner propane stove over a year now and it has accompanied us on dozens of camping trips. The stove is easy to light, boils very fast and with a little care simmers your favorite stir fry with perfection. Boil time is an incredible 12,000 BTU vs the Primus 7,000 BTU (despite the details section showing the Primus boils faster which seems impossible based on BTU and personal experience). There are built-in wind screens which means no need for side screens that get in the way of pots and cooking space. The stove folds down into a sturdy case making packing secure and worry free. We did have to replace one of the control knobs which is plastic on a metal spindle when it stripped the plastic threads inside the knob. We went to our local Coleman repair center and bought a new knob for $5. With a little more care I think these knobs will last. (I think one of the kids reefed on it but I have no proof, LOL). This stove could have had legs to allow for storage underneath when setup on cooking table although might make it too high and unstable especially when around kids on a picnic table or camp table. The drip tray is not removable but have had multiple boil overs when cooking oatmeal and was always able to clean up quickly with a cloth. Great product all around with no visible damage after much use.
Cooking with the Coleman stove in our perfect kitchen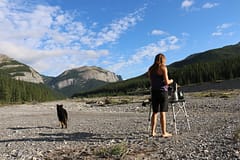 Having a good camera became a priority when we had kids. We are amateurs but have photographer friends that highly recommended the Canon 70D Digital SLR camera for our budget and use. Overall we are very happy, good battery life and seems fairly durable (its been dropped a few times). We need/want to make more time to learn how to use it better but have yet to make that time. Maybe while the camping season ends and skiing has yet to start we may find the time…maybe. This camera is Wifi capable but we have not yet set it up. We purchased a wireless remote which we have used extensively, it's nice to set up the camera and push the remote to take a picture versus putting it on a timer and running.
Canon 70D Digital SLR camera in action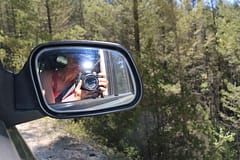 That's right we have wedding rings on our favorite gear list. Wife has a combo gold wedding/engagement ring and hubby has lost his original wedding band while on an adventure. We learned early on we do not want expensive rings while adventuring. But it is fun to have something so we got the silicon rings and we wear them most of the time. This is especially the case for Mr. Off Road Discovery as he plays a lot of sports and has seen too many injuries in friends involving rings ripping the flesh off of fingers through seemingly innocent activities.
Women's QALO Aquamarine Twist Stackable Silicone Ring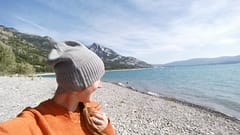 The new range of balance bikes are the best thing to use when teaching kids to ride bikes. Having seen this in action in person it is clear that training wheels don't build balance. Once the training wheels come off you start all over again to develop balance. Balance bikes merely need the balance to develop until the point that you bring the pedals into play. No other option in my opinion. Both of our kids love their bikes and we take them everywhere.
3 year old speeding past on Strider bike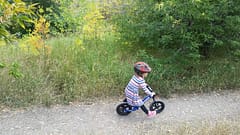 This is by far our favorite dog item as we use it multiple times a day and in some cases as a seat belt harness. The well set up design allows for comfortable support for your pup when needing to pick them up by the integrated handle. This has been especially helpful when trekking through deep snow and our pooch would get stuck in tree wells. Its nice when you are out walking and you don't feel like you are strangling your pup. 6 years of use and no real signs of wear from daily use.
Happy dog wearing his harness