We have had our iKamper rooftop tent for two years and countless camping nights. We have mostly traveled around the Canadian Rocky Mountains and British Columbia coast. Climates include cold and dry to humid rain forests. We have had some condensation issues, not horrible but enough that we would wipe the inside each morning and ideally have the tent air out before we closed it, which isn't always possible. We read that the iKamper Inner Tent Insulation add-on helped others with condensation. We were also interested in the add-on for keeping the tent warmer as the nights are getting cooler into the fall. We haven't had an issue with warmth yet but thought if it helps with condensation a warmer tent is just a bonus. Main problem we wanted to solve was a damp tent, nobody wants a dank moldy tent!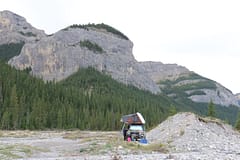 We are not sponsored or compensated by iKamper
When purchased the iKamper Inner Insulation Tent it came in a nice tent carry bag so we threw it in the Land Rover and hit the road the next day. When we took it out we realized there were no instructions but it was quick and easy to figure out.
Inner Insulation Tent Installation and Review Video
Here's us installing and then reviewing our experience three nights later:
iKamper has a warning: be sure to unclip the Inner Insulation Tent from the round aluminum bar before closing your Skycamp. Failing to unclip the inner tent could result in tearing damage. We also unclip the corners.
You may also be interested in:
iKamper Rooftop Tent Review and Experience iKamper Hacks and Tips