Camping in hot sun, rain and snow is challenging. Having an awning makes life a lot more comfortable. Opening and closing an awning on a vehicle can be finicky and sometimes impossible feeling when you are doing it solo. We have an ARB awning on our Land Rover, which we have appreciated and enjoyed but also learned from. We wanted to add one to our camping setup on the Toyota Sequoia but our current awning is very narrow and we wanted way more coverage. We researched and decided on the Thule HideAway Awning.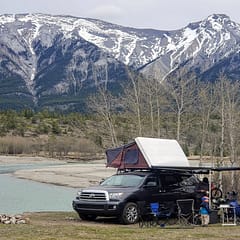 We are not sponsored in anyway by Thule, this is our honest feedback and opinion
First off we have had great experiences with Thule. You can switch out the locks so you only need one key on all your Thule products, we also have cross bars and a Thule bike rack so this is very handy and practical.
Why We Chose The Thule HideAway Awning
We compared weights, size and features of awnings. Nothing compared to the Thule Hideaway Awning:
It has no cover
It's light
Has a lifetime warranty
Incredibly stable
Fastest setup; it uses a hand crank to open and close - BEST FEATURE
It's large; we choose the 10 x 8 feet, there is a 8.5 x 6.5 option
Optional additional purchase for sun or rain blockers, cool ability but not something we think we'd use because we have full sun and rain protection with our roof-top tent annex
Easy to size awning legs with peg holes at the base for extra stability
Mounting the HideAway Awning
We had to upgrade our crossbars for our iKamper so we also planned to have long enough bars so we could attach an awning to the side of our Toyota Sequoia. We had to purchase the Thule Awning Adapter for Roof Rack to be able to attach the awning. The good thing with these is they also act as a lock. We lock everything to our vehicle! Theft happens (but we believe Karma so…)! We've experienced it and it can happen on a City street or the most remote places, it's too expensive and annoying to take chances. We purchased both items from the same Thule reseller and they install for free so we took advantage of it! Honestly it doesn't look that challenging watching other people's videos and we will be removing the awning every winter so we'll update this post if we run into any issues.
Fits a Family of 4
We can cook and eat as a family of 4 under the 10 x 8 foot awning and still have room to move around. We have had heavy rain and high winds without any issues. We have not had any surprise heavy snow falls which might be our only concern but we'd take it down if we thought that might happen. Our review at this time is that the speed and convenience is unbeatable which is a huge factor for us as we can set up and take down camp daily. The quality is top notch and seems very durable. We are very satisfied with our purchase at this time.
The Negative
The awning does jiggle / make a noise a little on bumpy terrain but the issue can be fixed by putting a strap around the awning when driving. It's one of the more expensive awnings on the market about $1000 CDN.
Summary
We are very impressed with the Thule HideAway Awning, it is well worth the cost for the quality and ease that it provides.