Somewhat unsurprisingly with our Land Rover Discovery 2 we frequently upgraded when things failed. Our Subaru, on the other hand, is a very different vehicle which has had no issues "knock on wood" since 2012 and proved to be a reliable daily rocket ship. Occasionally delving into the Subaru rabbit hole thanks to the likes of Smeedia and other online Subaru forums it appeared it was only a matter of time until one of the systemic flaws of the Subaru EJ25 motors would likely rear its ugly head.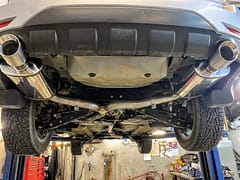 The finished product
So…in this case we decided to upgrade prior to a failure to keep our Subie in good nick. We had always run a Stage 1 COBB tune since purchasing the Forester XT brand new in 2012 and that really seemed to make the engine idle better. Perhaps it's even the reason we haven't had any issues though it may also be the low kilometres that we accumulated over its 8 years and 90,000 km of life so far.
There are a few things that seem to pop up on EJ motors which appear to be good to look out for and that we attempted to address and how we addressed them.
Ringland failure due to oil contaminating intake (Air Oil Separator of which there are many good quality brands to choose from which speaks to how common they have become. We chose to go with IAG Air Oil Separator V3.)

Oil pickup tubes breaking at welds and starving engines of oil (Again a couple of brands that also offer new windage trays for oil pan that prevent oil from sloshing so much that you lose oil flow. We chose to go with Killer Bee.)

Timing Belts breaking if left on too long and damaging valves (Lots of brands to choose from and I we went with a Gates kit and sourced a separate Aisin water pump to ensure all the parts were made in Japan as per the original spec.)

Overheating especially in Cylinder 4 which has less coolant flow than the other cylinders (This is a newer mod by a company called GetaDomTune that has some really neat Subaru specific stuff.)
What do you do anytime you are planning on doing a big service?
Address anything else that you would want to do when you have the engine opened up is what!
In this case we wanted to get the downpipe upgraded to a COBB downpipe, change the intake which need a new filter into a COBB SF intake and mate it all to a new Magnaflow 16856 exhaust that is for a 2009 to 2014 Subaru WRX sedan and matches perfectly to the SH model Foresters.
We decided to get some help the amazing shop of Pro-Active Automotive in Calgary Alberta led by Dean Guertler and his friendly staff. His shop is so top notch that if you have the honor of seeing his wiring organizer you understand in an instant the quality here is linked directly to attention to detail.
We bought all our parts from a combination of Touge Tuning and TDot Performance both out of Ontario Canada. Any odd gaskets, filters and fluids we need came from our local Calgary Subaru Dealership. This is apparently quite important especially for Subaru coolant.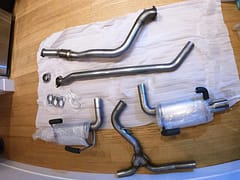 Some of the new parts for our Subaru Forester
Within 2 days we showed up to pick up our beloved Subie.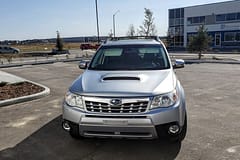 Our beloved Subaru
Remote start worked and what a noise the exhaust made…Low rumble that sounds fantastic.
Driving the car around for the first time you can really hear the noises the COBB SF intake makes with the spooling whirling up and the wastegate passing out the extra psi when you downshift.
With the new Stage 2 SF tune provided by our COBB accessport it was quickly apparent there was more power. This was a really noticed when cruising in 4th gear and not having to downshift when you give it a little squirt.
Overall very pleased with these mods!
Feels like you are driving something much more special than a stock Forester XT as its now making all the race car noises that keep you engaged in the drive.
We highly recommend these mods to anyone with a Subaru EJ25 motor and especially a Forester as it will almost certainly put a smile on your face every time you start your car and put your foot on the gas!
We'll note here we are not sponsored / paid / affiliated with any businesses or companies in this post, we are purely sharing what we did.
Overview of upgrades and new parts before they go in:
Review of old parts and new engine sound:
The old exhaust for those that are interested: